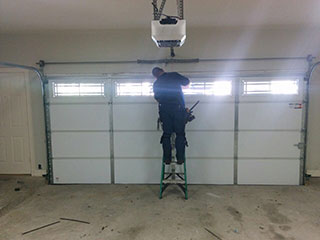 When it comes to garage doors, leaving problems unattended is not recommended. A broken spring would mean the door won't be able to move, a problematic opener and sensors might prevent the door from closing or opening, tension problems might cause the door to move too slowly or quickly, and the list goes on. When you face any kind of problem – our team is at your service! We will get the issue fixed by the end of the day.
Replacing Rollers & Tracks
The heavy garage doors that you have in your garage are only able to slide up and down in the same path because of their rollers and tracks. This principle is the same with how a train stays on its tracks. Even if this system secures the door to the tracks, enough force applied laterally or centrally will wrench it out of its place. This is what is seen when a car accidentally hits the door. Other reasons why rollers and tracks get damaged and fail to function properly is extensive rust and the accumulation of oil and grime. Call us right away if your track and roller setup has been damaged. We have a complete inventory of replacement parts that we'll use to effectively remount your doors.
Dealing with Broken Springs
Springs that are used in garages shouldn't be taken for granted one bit. They hold within their coils enough energy to raise or lower heavy doors in a controlled manner. This same energy can just as easily be released as a destructive force when they are not handled using the right techniques and precautions. Many people have lost fingers, hands and even lives because of mishandling the springs, so if you ever need help with their installation or adjustment, call us. Our repertoire of garage door repair services includes safe handling of springs so you don't have to put yourself in danger.
Opener Replacement and Repair
The use of openers stemmed from the need for convenience when operating the heavy overhead doors. Without the use of a remote controlled opener, you have to perform the tedious task of repeatedly getting out of your car to open and then close the door every time you pull out of your garage. If your opener gets busted, you'll have to once again do things manually or you can choose to call our company for assistance. We perform installation of brand new openers if you want to upgrade to a newer model. If you want to keep the one you have, then we can fix it by replacing the parts that are damaged. Our inventory of parts includes all electronic and mechanical opener components, so whatever the issue your opener is having, we are sure to have the right parts and tools to handle it.
The Best Garage Door Repairs in Town
Having a problem with your springs? Is your opener noisier than usual? Give our company a call today to have your door professionally serviced!
Looking for more? We also offer:
Garage Door Troubleshooting Services
Garage Door Cable Replacement
Emergency Garage Door Repairs