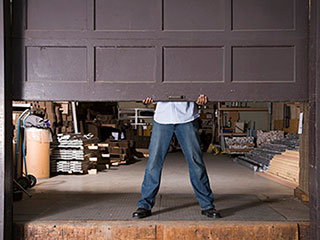 If you have a large appliance or piece of machinery in the house, get it inspected every once in a while. It can be a refrigerator, sound system, washer and dryer or your automobile. A lot of people take care of these things, but your garage door is just as important. The parts that allow it to close and open are prone to wearing down over time. If you have a heads-up on the status of your machine, you'll wind up saving a lot of cash over the repairs. Below is a general maintenance check list which includes inspection as well. Make sure to let your family and roommates know the inspection is being performed as well to avoid any accidental injury.
Inspection Basics
Garage door inspections follow a certain set of rules and protocols. The first inspection you'll want to do is a monthly visual check to make sure everything appears to be in working order. Observe and study the cables, rods, wiring, chains, tracks and operator. If everything looks good, you can check off one thing on the inspection list as completed. If you do find something amiss, get it taken care of – something else is probably wrong and the visual side of things is just a symptom or indicator of this problem.
Next, you'll want to do something called a door balance test. Disconnect the operator from the electric supply and manually lift the door. If it moves smoothly and without a lot of resistance, it's balanced. However, if it struggles and opens slightly more on one side first, you have a balance issue.
If the balance and visual test go smoothly, move onto the reversing mechanism test. Note this applies only to automatic garage door openers, so if you have a manual, should be set. Open the door completely and lay a piece of wood on the floor in the center of the opening. Push the remote's transmitter and start closing the door. If it contacts against the wood and stops to reverse, you can just assume that everything is working fine. If not, you'll want to consider a garage door repair. This is one of the most important features of an automatic door opener and without it, might risk injury.
Biannual Lubrication
Don't forget to lubricate the moving parts of your door. You can see how smoothly something is lubricated and how well the grease is applied for the most part. It is recommended not to use WD-40, however, as this can lead to corrosion and material problems with the mechanisms that attach to the garage door trolley. Instead, find a recommended lubricant specified in the owner's manual of the door opener. Combining this with the inspection checklist above will extend the life of your door to a great extent.